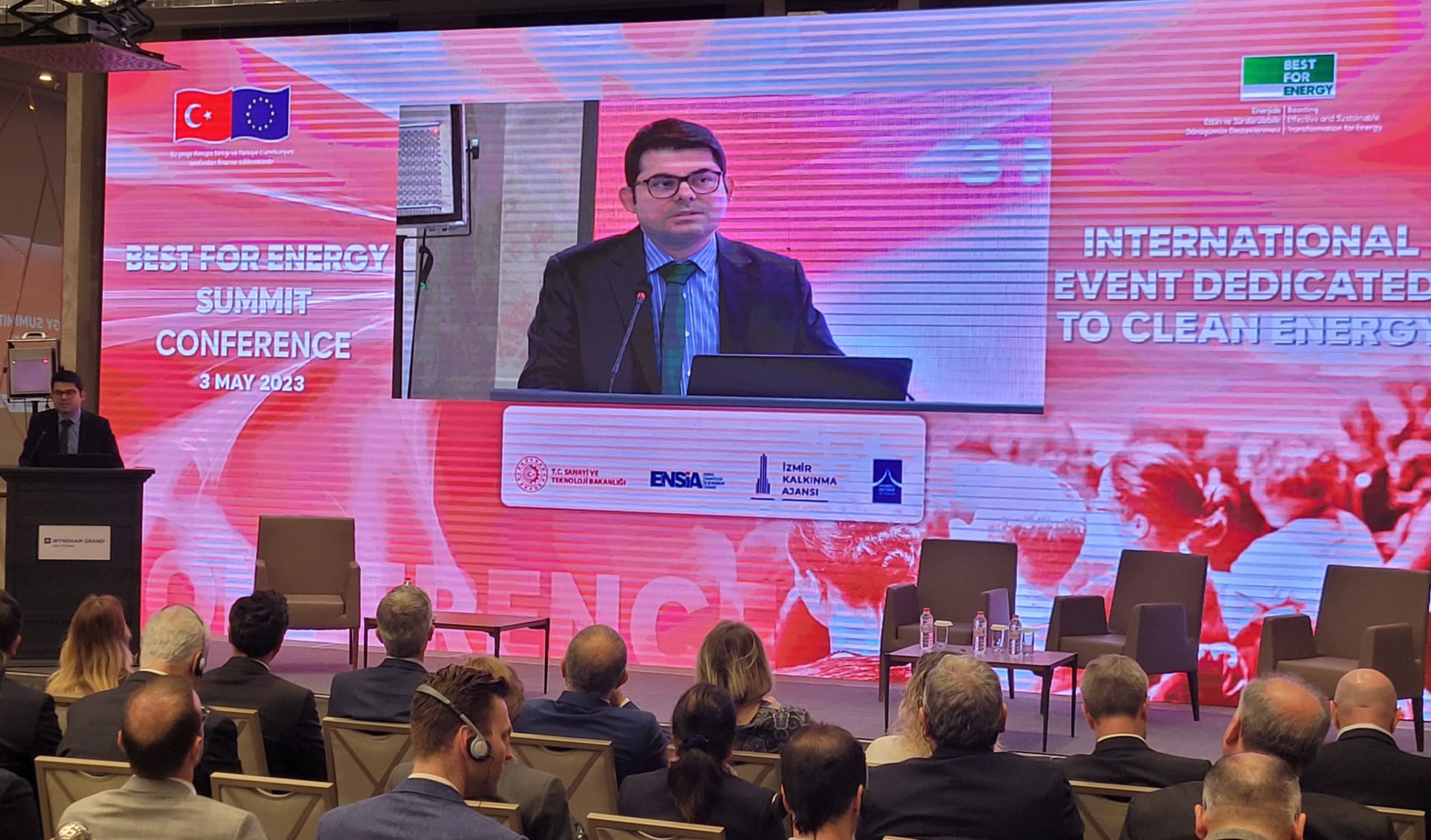 12 May 2023

BEST FOR ENERGY SUMMIT HELD IN İZMİR

 The Clean Energy Summit, organized by the BEST For Energy Project, Supported by the European Commission within the scope of the Competitive Sectors Program of the Ministry of Industry & Technology and carried out by the İzmir Development Agency (İZKA), in partnership with the Energy Industrialists and Businessmen Association, was held in İzmir on 3-4 May 2023.

The Summit brought together all the stakeholders of clean energy and clean technologies sector. During the two-day Summit, 3 separate meetings were hosted.
An international conference discussing the trends and cooperation opportunities
B2B meetings
The award-winning project exhibition, where clean energy entrepreneurs showcased their projects
INTERNATIONAL CONFERENCE
All clean energy stakeholders came together at the international conference held within the scope of "BEST FOR ENERGY SUMMIT" on the first day of the summit. Domestic and foreign companies operating in the fields of wind, solar, geothermal, biomass and hydrogen energy showed great interest to the Conference. There were sessions where cooperation areas for clean energy transformation, global clean energy supply chain and R&D studies for clean energy were discussed.
B2B MEETINGS
On the second day of the Summit, a Bilateral Business Meetings Event was held with the participation of companies that provide services and equipment for the clean energy sector. In the B2B Event; participants from Türkiye, Spain, Germany, Bulgaria, Italy, England, Azerbaijan, France, Denmark, Portugal, Poland and Taiwan took part.
During the bilateral meetings, especially clean hydrogen, Çandarlı Port Project and the integration of Turkish companies into the global supply chain were particularly prominent areas.
PROJECT EXHIBITION AND COMPETITION
In the Project Exhibition; innovative techniques, technologies, processes, materials, automation solutions, software and services developed by entrepreneurs operating in clean energy were presented to the jury for evaluation. Materix Nano Technology won the first prize, Salty Energy Storage won the second prize, and Hydrolyx Energy Chemical Technologies team won the third prize.
The summit will continue to be held by İZKA in the coming years in order to bring together all the stakeholders in the clean energy sector.